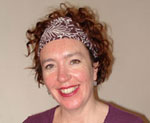 Back Ache? Joint Pain?
Pregnant? Stressed?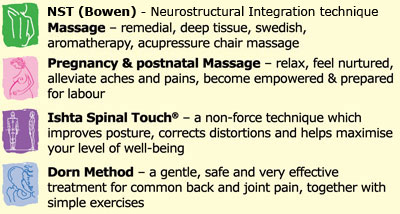 Jojo Norris IIHHT MICHT APNT
Jojo 07981 196371 Email: jojo@jojotherapy.com.
Gift vouchers available. Click here to order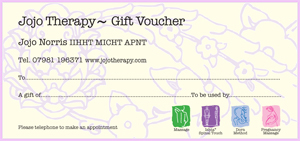 A well established massage / body therapist working in Leamington Spa, consider yourself in safe hands. People usually come to me through word of mouth. As part of a network of excellent therapists, and with a broad understanding of health and complementary therapies, please be safe in the knowledge that if I feel another therapy will help you, I will always refer.
Jojo Therapy has helped clients with the following:
• Back ache /neck pain /joint pain
• Pregnancy / postnatal massage
• Sciatica / Slipped Discs
• Poor posture
• Headaches / Migraine /Sinus
• MS / Chronic Fatigue
• IBS / General Malaise
• Stress / Depression
• Arthritis / Rheumatism
• Sports and injury recovery
• Frozen shoulder / whiplash / RSI
Helping you be the best you can be…
Privacy Policy: I don't retain data in emails you send via this website which doesn't use cookies.
All client's data is stored in hard copy in a locked filing cabinet. I will only contact you with reference to appointments.
http://extremetracking.com/?reg.........................................................