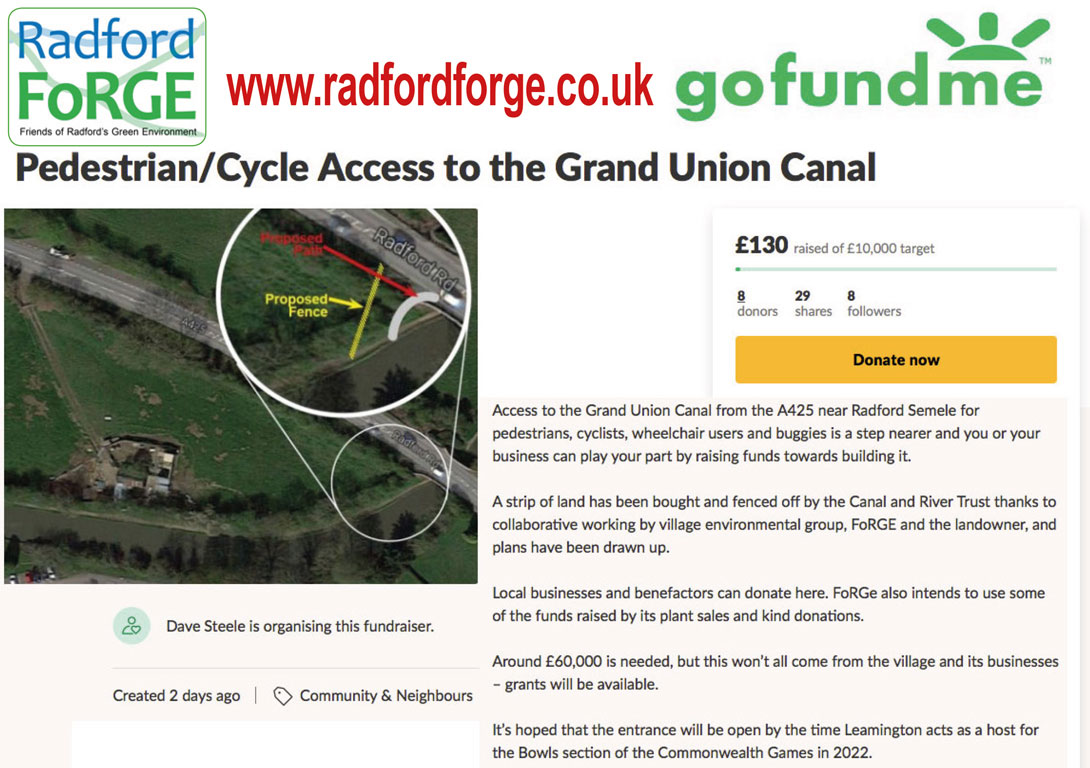 Friends of Radford's
Green Environment (FoRGE)
Friends of Radford's Green Environment (FoRGE) is a community group set up by residents of Radford Semele.
The purpose of the group is to be an active and constructive force in the shaping and developing of the village environment and its green spaces. The group acts for the benefit of the community and local wildlife.
Friends of Radford's Green Environment (FoRGE) is a village community group for Radford Semele which draws together local expertise/interest and has a voice as well as active intentions to green up our space.
FoRGE Aims:
• To promote, enhance and, where possible, improve and extend the green environment of Radford Semele for community enjoyment and safety, and to support wildlife. Areas include the village's parks, public walkways and land under development.
• To improve access to nearby green corridors such as the National Cycle Network (Route 41 Offchurch Greenway) & the Grand Union Canal.
• To provide a community voice in shaping the development of the village as a green and safe environment in which to live.
• To enable residents to be better informed about the development of the village in relation to its (and their) green spaces.
• To act as a critical friend to the Parish Council and to encourage the speedy adoption of a Neighbourhood Plan.
We shall do this by:
• Working with local councils, agencies, landowners and property developers to voice community interests for a green and safe living environment.
• Consulting the village about and seeking support for our ideas for improving green spaces.
• Identifying and raising funds, and securing relevant permissions, to implement improvements and enhancements to the village environment.
Management and Membership of FoRGE
Membership of the group shall be open to all village residents. FoRGE is managed by a steering group. People beyond the village with an interest in supporting the group's aims shall be welcomed as associate members.